Azuma Yunoki
. He has an older brother that he looks up to and respects. Kazuki first liked the trumpet after seeing a girl play the trumpet in front of him. Being surprised, he came up to meet the girl every day and made it clear to himself that he wanted to play the trumpet. He was chosen to enter a running competition while in grade school, but after frequently listening to one of his seniors playing trumpet on the school rooftop, he
quited and started playing trumpet for a change.
At first, Kazuki only played because it was fun, but soon challenged himself. Being accepted into the concours made him pumped and that's when he met other muscians and Hino.
After falling ontop of Hino and realizing how gentle girls can be, he soon developed a crush for Hino and made it quite obvious to others without even realizing.
He is the first one to realize that he is in love with Hino Kahoko. (In Chapter 39)
He is the first one who realizes he is in love with Hino and he realizes this when he fell and scraped his elbow and she came to help him. Hihara also came to her rescue when she forgot the notes to "Gavotte" and is like a younger brother figure.
Time Skip
Edit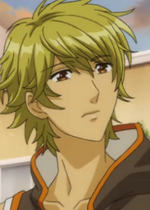 In the third game and third season it is shown that he is now a teacher at a junior high school in Sendai and he is the private teacher of
Yukihiro Yagisawa
.
Ad blocker interference detected!
Wikia is a free-to-use site that makes money from advertising. We have a modified experience for viewers using ad blockers

Wikia is not accessible if you've made further modifications. Remove the custom ad blocker rule(s) and the page will load as expected.